Information
(英訳:神戸女学院大学)
Contact

Telephone:+81-798-33-0651
Email:webmaster@sinnisi-yh.co.jp

Operating hours

9.30 am to 5.00 pm
Closed on Tuesdays.
View details here.

Booking

Submit the online form
View the berthing price and facilities below.
About Us
Shin Nishinomiya Yacht Harbor is a sophisticated marina located in Nishinomiya, Hyogo Prefecture. Our marina is known as the port from which Mr. Kenichi Horie departed for his voyage across the Pacific Ocean in 1962. He is Japan's most famous yachtsman, and the first man in history to make a non-stop solo crossing of the Pacific Ocean.
Mr. Horie's sailboat the MERMAID is exhibited
Nishinomiya is famous for having both beautiful nature and excellent accessibility to Osaka and Kobe. Therefore our marina is an ideal cruising destination or stopover for one-day cruising to places such as Awajishima Island, Kii Channel and Naruto Channel. These locations are paradise for boat and yacht fans, those who enjoy cruising, sightseeing and fishing. Once at our marina, it is only a 30-minute-drive to Osaka and Kobe city. Major hotels, golf courses, a theme park (USJ) and shopping centers (NI-SHINOMIYA GARDENS and LaLaport KOSHIEN) are just a short drive away.
Facilities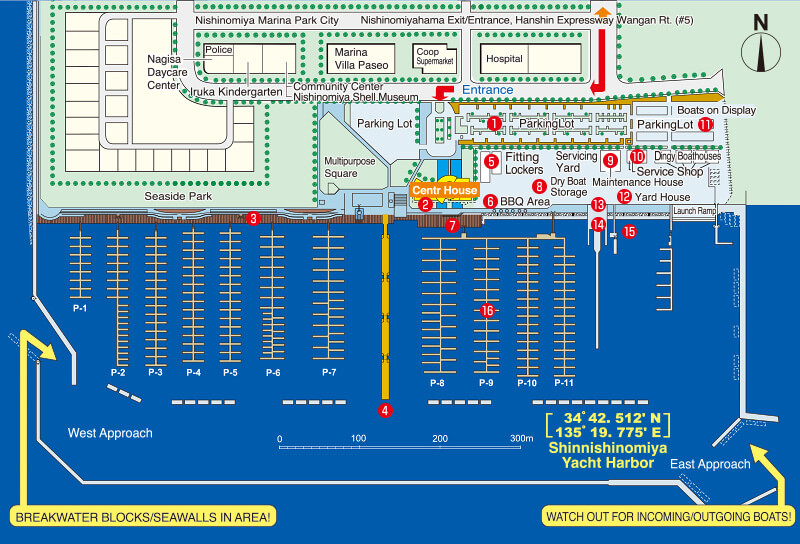 ① Parking Lot
② Center House
② Mermaid Gallery (Mr. Horie's sail-boat)
② Front Counter
② Shower and Locker Rooms
② Owners' Salon
② Guardroom
② Meeting Rooms
③ Boardwalk
④ Visitors Berths
⑤ Stock space

⑥ Owners' BBQ space
⑦ Dock gate
⑧ Dry boat storage
⑨ Maintenance house
⑩ Service house
⑪ Boats on display
⑫ Yard house
⑬ Travelift
⑭ Marine Crane
⑮ Fueling facilities
⑯ Mooring area
Fees
Soon after arriving at the harbor, please come to the reception desk at center house (highlighted with yellow on the map) for inward clearance procedures. Note that the full fee must be paid in advance.
Mooring fees
¥100 / meter for under 3 hours
¥800 / meter 3-24 hours
For visitors the maximum mooring period is 7 days.
Fuel / Maintenance
Reservation-less fueling
We offer a lineup of high-octane gasoline, light oil  for your boating needs. Fueling two ships simultaneously at the 20-meter berthing area is available from 9.30am to 5 pm.
Maintenance yard
Our maintenance yard may be used for maintaining your boats in peak condition out of the water. The capacity of the maintenance house is 3 boats (space for one 15-meter boat and two 9-meter boats). The maintenance yard for 10 boats is available outside of the house.
Contact Us
Postal address:

4-16-1, Nishinomiyahama, Nishinomiya City, Hyogo, 662-0934, Japan

Telephone:

+81-798-33-0651

Fax:

+81-798-33-2411

Email:

Regular Operating Hours:

9:30-17:00
Closed on Tuesdays. View details on our calendar here.

Marina Office Location:

View on map

Marina coordinates:

Latitude 34° 42'64″ N, Longitude 135° 19'82″ E
Information map for entering the port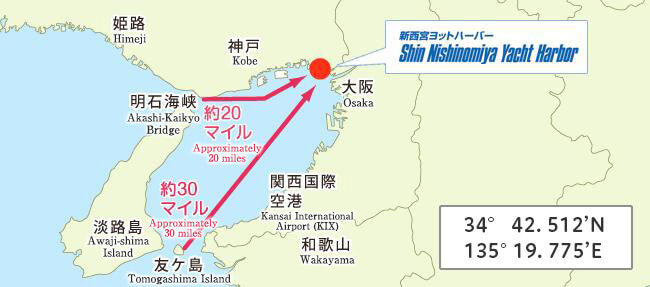 Restaurant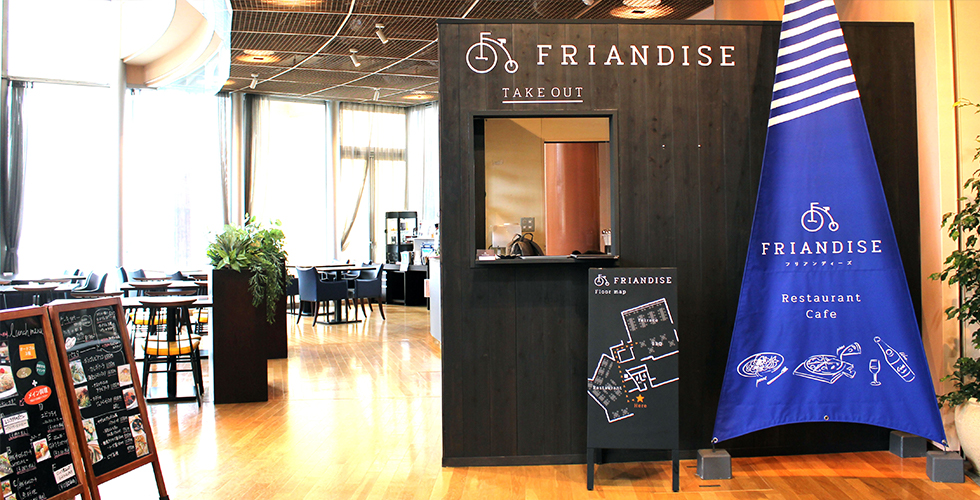 Situated on the first floor of the center house with gorgeous views of the Marina is our popular Italian restaurant, Friandise. Our specialty is a lunch course in which you can choose your main dish from five options.
Opening Hours
9:00am to 8:00pm
(Lunch time 11:00am to 2:30pm)
Last food order is at 7:30pm.
Closed on
Tuesdays.
Phone
+81 798-34-9787
Cafe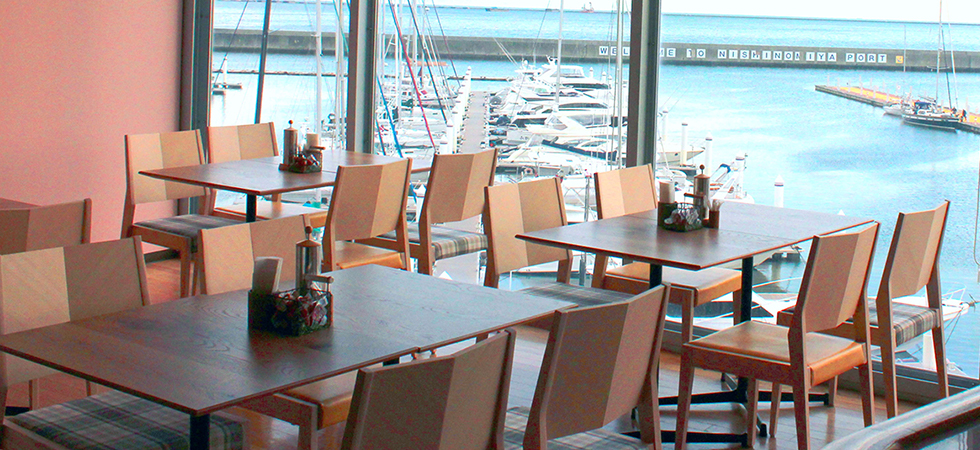 Located on the third floor with wonderful views overlooking the Marina is a lovely café, WACHA. A great place to watch a beautiful sunset while enjoying cocktails. Lightly sweetened cakes served with a wide variety of drinks are very popular.
| | |
| --- | --- |
| Opening Hours | 9:30am to 6:00pm |
| Closed on | Tuesdays. |
| Phone: | +81 798-23-1265 |